Today is very cold and snowy. I was pretty darn excited to see the snow start to melt, and then we get slammed with more of it! ugh I can not wait for spring!
On another note, I recently found a fellow college student who blogs & has her own Etsy shop! It's really exciting to find someone around here interested in those things. Not only do I love cooking but I love creating and crafting. It is just so hard being a full-time student to find time to do everything I want.
She was also kind enough to feature my blog link on her blog!
You can read about her creations here:
http://artistic-elements.blogspot.com/
& check out what she has for sale in her etsy shop here:
http://www.etsy.com/shop/CalliesCreations
She makes very beautiful jewelry and even has step by step tutorials on how to make some pieces yourself! Be sure to stop by and have a peak!
(if anyone can show me how to put links on my page, so the website doesn't show up and you can click words to get to the site, I'd appreciate it! I am a huge novice when it comes to html.. if you can't tell! and I've tried some html codes that did not work.)
For lunch yesterday I made a quick and easy wrap for my boyfriend and I. Usually he likes big hearty sandwiches and meals but he loved this
Chicken Caesar Wrap
as much as I love it. I've been on a chicken caesar anything kick lately. It's just so good!
Easy Chicken Caesar Wrap (makes two wraps cut in half to make one!)
2 chicken breasts (cooked and chopped. You can pan sear them or bake them in the oven with a little bit of salt and pepper, Parmesan cheese, Caesar dressing, and garlic powder.
1 1/2 - 2 cups of romaine lettuce
1 big handful of croutons
Caesar dressing
2 big wraps, whatever flavor you like
2 handfuls of shredded cheese (I used an Italian blend, so it had Parmesan cheese right in it)
Layer 1 tsp of dressing on wrap. Then layer chicken, lettuce, 1/2 the handful of croutons, and 1/2 of the cheese. Do this on each wrap. Drizzle with dressing.
Fold wrap and serve!
To fold the wrap I take both sides (the right and left) and fold them in.
I then fold the bottom up over the filling and roll over so the seam is on the bottom.
(my picture didn't come out so hot so here is one from google images)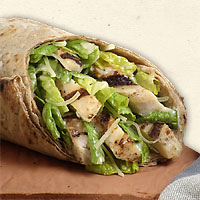 I know most of my recipes are really simple and are not complicated at all. But the lifestyle I live right now only allows for that. Plus I love quick and easy meals and I love coming up with really simple recipes that anyone can make. A lot of my friends and some of my family don't cook often, so creating these easy recipes will help them feel more confident in the kitchen, at least I hope!
Stay warm if you are snowed in!
<3 Laura